Since this nation started on its Middle Eastern miss adventure some of the people of our nation have been making great sacrifices. Those behind this war wanted to make it as painless as possible for as many of the people of the country as they could. We have not faced shortages, or even had to pay for this war (We are simply putting it on the credit card). Mostly it has been the military and their families who have paid a price. They have been separated from fathers and mothers, sons and daughters, husbands and wives. They have faced financial difficulty, infidelity, failed marriage and countless other personal struggles.
There have been highly motivated people who have decided to give to our nation and serve. The have left
well paying high profile
jobs to fight for their country, extended their service to make sure the needed skill would be in place for their units, or come straight out of school to join up. As a result they have missed birthdays, anniversaries, funerals and countless other special events. Some have sacrificed arms and or legs, parts of
their brain, their eyesight or hearing or have had to face some other life altering injury.
And some 4500 have died.
And the man responsible for this; The man who broke international law by engaging in a war of aggression (a crime that, in the past, the US has executed people for), violated both the Geneva conventions and the UN human right conventions by
endorsing and encouraging
the use of torture on captives, the man who has illegally spied on US citizens and has run up a two to three trillion dollar debt in the process;
Well, he to has sacrificed, he has
given up golf
as a sign of solidarity with the people of the US who are fighting this war.
Some have given their
Last Full Measure
, and he has given up a once or twice a month 3 hour ride in an toy electric car.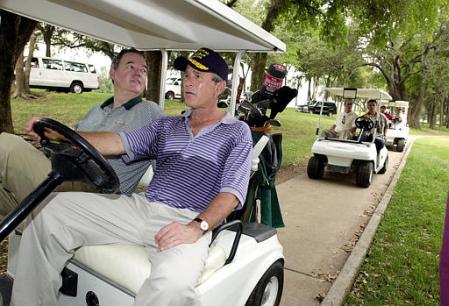 What an a$$h*le.
Tags
Bush, Iraq, Republicans